Da "The Guardian" di Londra
22 gennaio 2009 - John Hooper
One day, will we all have our own number online?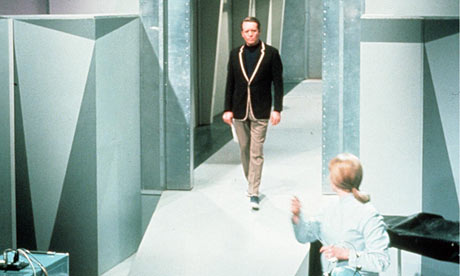 If Silvio Berlusconi gets his way, we might. Italy's conservative prime minister, born in 1936, has a plan to control the web. His interior minister, Roberto Maroni, has hinted it could mean every user having an "identification number".
Such a Prisoner-style approach might sound far-fetched. But Berlusconi is in a position to make a difference. Italy took on the rotating presidency of the G8 - the "Group of 8" most powerful nations - this month, and it will be Berlusconi and his officials who draw up the agenda for the next meeting of the rich nations' club, in Sardinia on 9-10 July.
What is worrying Italian web enthusiasts is that last month Berlusconi said he intended to present "a proposal for the international regulation of the internet system" to the next G8 meeting.
Several democratic governments have tried imposing controls. South Korea is thought to have been the first to pass an internet-specific censorship law, in 1995. One of the most web-savvy MPs in Berlusconi's party, Antonio Palmieri, admitted the plan had taken him by surprise. Palmieri, a delegate to the 2005 World Summit on the Information Society in Tunis, cautioned web users against "reacting in a dogmatic fashion". He told the online daily Punto Informatico that "the net is not a utopia and it is unthinkable there should not be rules".
Many Italian opposition MPs would agree. But not Antonio Di Pietro, the leader of the small Italy of Principles party and one of the first Italian politicians to understand and explore the net's potential. Di Pietro is mistrustful of Italy's prime minister and fervently convinced that Berlusconi has deep-seated anti-democratic tendencies.
On his blog, Di Pietro noted that Italy was among the European states with the lowest net usage, and argued that it "doesn't need gagging and censorship, but development".
Yet Italy's bloggers in particular already operate under the threat of prosecution and conviction.
In 1948, the government passed a law making it an offence to publish a newspaper without registering it with the authorities. The aim, understandable enough at the time, was to scotch the growth of an underground press that could have undermined Italy's still-fragile republic.
Yet in 2001, the provisions of the law were extended, by a centre-left government, to web-based "publications". And last year saw the first conviction.
A court in Sicily imposed a token €150 (£137) fine, with costs, on a local historian and journalist, Carlo Ruta. His crime? Posting a feisty blog, accadeinsicilia.net, that was judged to be a newspaper that did not conform to the law because its "editor" had failed to register it.
Don't bother looking for Ruta's site, by the way. It was closed down in 2004. He now has another - or is it a newspaper? - at leinchieste.com.